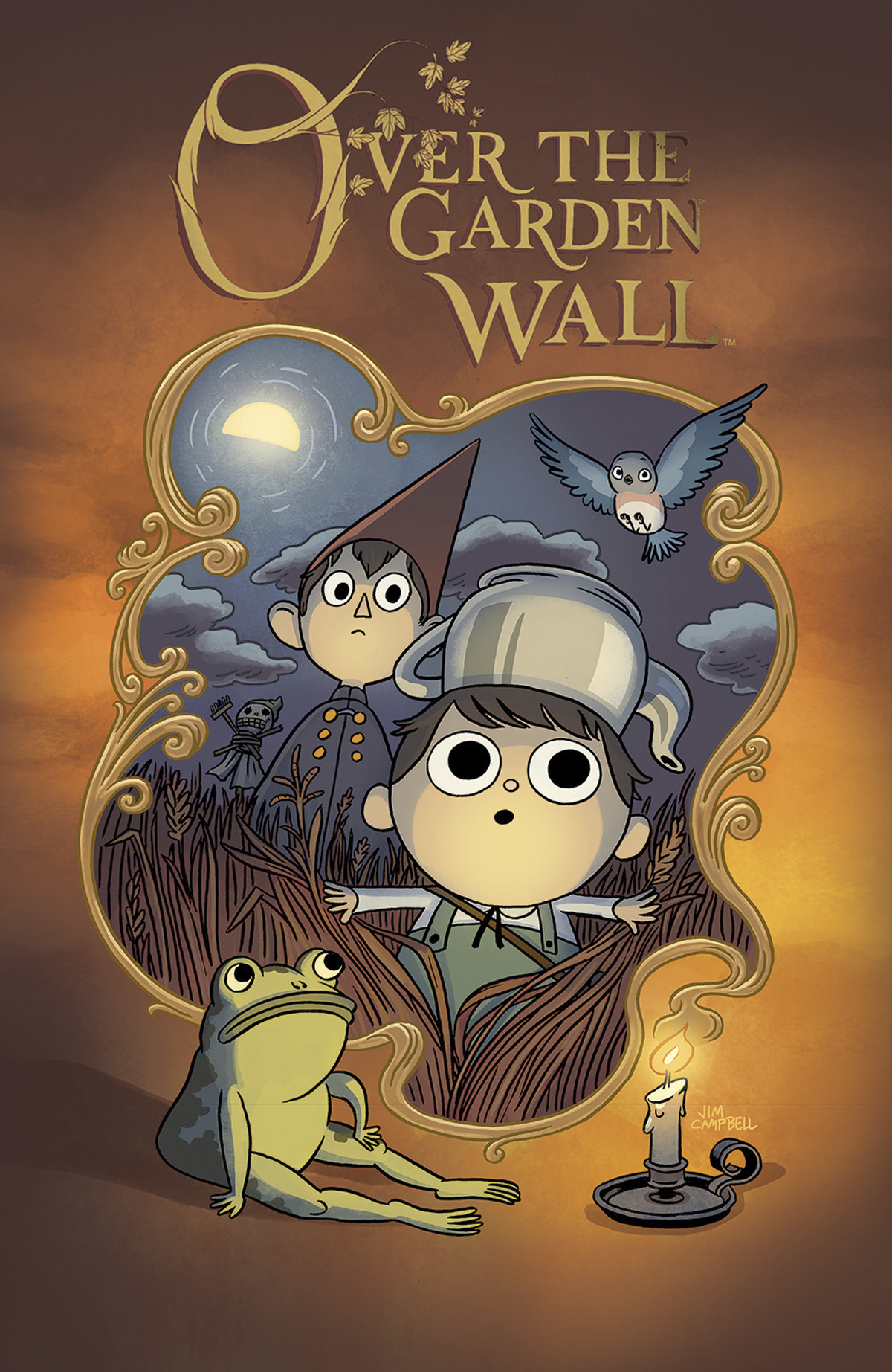 KaBOOM!, an imprint of award-winning publisher BOOM! Studios, and Cartoon Network Enterprises, the licensing and merchandising arm of the network, are pleased to announce the November 5th release of Over the Garden Wall, an oversized comic book special based on Cartoon Network's first original animated mini-series that will air over the course of five nights beginning Monday, November 3rd.
The Over the Garden Wall comic is an oversized, 26-page story written and directly supervised by the mini-series' creator, Patrick McHale (Adventure Time, The Marvelous Misadventures of Flapjack). Acclaimed cartoonist, illustrator, and colorist Jim Campbell (Star Wars, The Krachmacher), who was personally hand-picked by McHale, is drawing and hand-lettering the entire story himself. Designed to seamlessly tie in with the animated mini-series, the comic story is one of the adventures that brothers Wirt and Greg and their ill-tempered bluebird friend Beatrice go on while trying to find their way home from the Unknown, a strange forest adrift in time. In their attempt to get to Adelaide of the Pasture, a mysterious figure who might have the key to getting them home, they team up with a group of wayward soldiers in search of adventure and risk getting thrown even further into the Unknown.
"Over the Garden Wall is one of those wonderful stories that's fun and adventurous, and just the right amount of eerie—it's almost reminiscent of Don Bluth and Tim Burton films," said BOOM! Studios Editor-in-Chief Matt Gagnon. "Patrick has crafted a story that's set in a strange place, but at its core it's about siblings growing up and figuring out who they are, and that's something many of us can relate to. This one-shot, written by Patrick, will be additive to the animated mini-series with an all-new separate, but related story. We can't wait for you to get lost in the Unknown with us!"
Headlined by an all-star voice-cast that includes Elijah Wood (Lord of the Rings Trilogy), Collin Dean (The War at Home), and Melanie Lynskey (Two and a Half Men), Over the Garden Wall is Cartoon Network's first ever mini-series, an animated comedy/fantasy story about two brothers, Wirt and Greg, who are trapped in a mysterious world. In this 10-part production, music plays an important role with a soundtrack full of Americana-influenced original songs. Over the Garden Wall is created by Patrick McHale and produced by Cartoon Network Studios.
The Over the Garden Wall one-shot arrives from KaBOOM! in comic shops on November 5th with a cover price of $4.99. The main cover is illustrated by Jim Campbell, while the retailer incentive cover (1 in 15) is drawn by Patrick McHale. Not sure where to find your nearest comic retailer? Use

comicshoplocator.com

or

findacomicshop.com

to find one! It's also available for order directly from

boom-studios.com

.